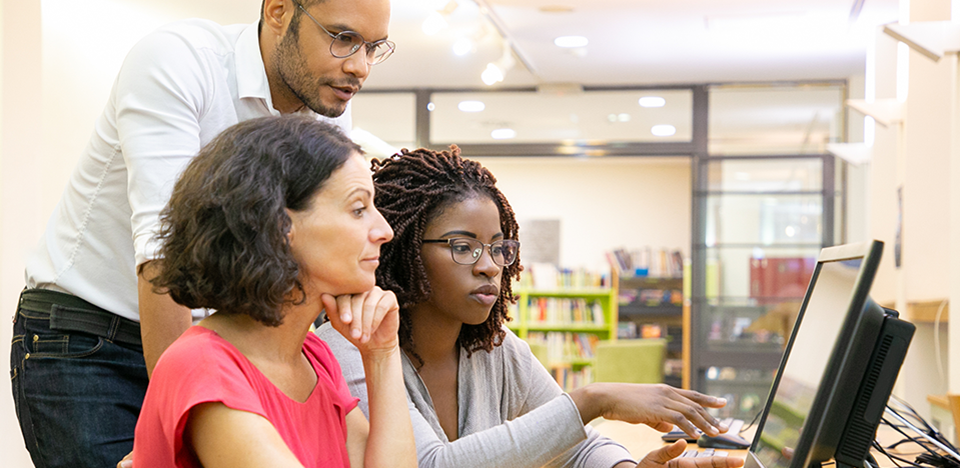 Boards, districts, and divisions today face steep challenges as they strive to support student achievement, improve outcomes for both students and educators, and meet increasingly rigorous standards. From strategic planning, leadership coaching, data literacy training, solutions implementation, and more, PCG's team of experienced consultants help educators and administrators address their biggest challenges and get on track for better results.


Strategic Improvement Planning
---
Leverage a proven approach to district-wide strategic planning.
Since 1991, PCG has partnered with districts (e.g., boards, divisions) to help guide effective strategic improvement planning efforts. Informed by decades of experience, extensive subject matter expertise, research, and best practices, we employ a multi-pronged approach to strategic planning that combines consulting, web-based technology, and ongoing engagement with key stakeholders at the school and district levels. Our team works with senior administration and school-based teams of educators to facilitate the creation, management, and alignment of strategic plans across districts, departments, and schools all with the goal of supporting student achievement and improving outcomes for kids and staff alike. 


Data Literacy
---
Harness the power of data.
Understanding how to use data to make informed decisions that support student success is a critical skill for educators. To meet this need, PCG has developed materials, templates, tools, and processes that support the collaborative use of data by educators and school board teams, and provides data use workshops to boards across Canada. PCG's workshop facilitators, who are themselves former educators, work with educators to organize, analyze, and use data to make informed decisions that support student success. PCG's three-dimensional Data Quality, Capacity, and Culture framework ensures that data use will be sustained and systemic.  


Facilities Review
---
Comprehensive facilities planning founded on educational and instructional data.
PCG consultants facilitate comprehensive school and district facilities reviews from a broad educational perspective, where we seek to gather soft and hard educational instructional information to form a balanced and actionable facilities master plan. The foundation of our approach is centered upon gathering and analyzing data, reaching out to stakeholder groups, and engaging integral stakeholders at all levels during each of the following consulting phases:
Review district-wide demographic trends and analysis

School building reviews of educational program use and analysis

Report and presentation findings
Technology Reviews
---
A full spectrum of quality IT services.
PCG's team combines deep domain expertise in education agencies and IT management, along with specialized technical expertise to provide an integrated service offering that helps organizations reduce the time, cost, and risk of transforming their business with technology. For almost 10 years, our expert consultants have helped to design and deliver complete solutions that meet the unique needs of our clients. We support every phase of developing and deploying automated services and solutions that help organizations achieve their strategic goals with an affordable IT approach that maximizes return on investment (ROI) while minimizing the total cost of ownership (TCO).